Our History
Adam Mancini is the 3rd generation to own and operate Ann McBride Real Estate. Ann and Ken McBride, Adam's grandparents, founded the agency in 1955 with an ethos to never let clients lose money on a property. They built an impeccable reputation and the business grew. Ann in particular took pride in mentoring and taught everything she learned to her daughter, Beth, and son-in-law Richard Mancini.
In 1998, Adam Mancini joined the family business and was immediately hooked on the satisfaction he found in helping people find their right home. He was the beneficiary of 100+ of years of collective family experience and got a deep education in all aspects of residential buyer and seller transactions, the residential leasing market, and property management. In 2013 Adam became the President of Ann McBride Real Estate.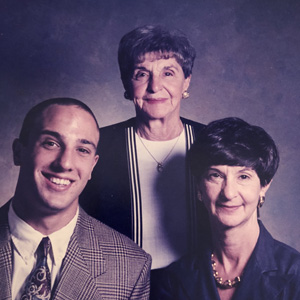 ---
Our Philosophy
Today, Ann McBride Real Estate is a great team of like minded people that are devoted to delivering for our clients. We focus on being accountable, reliable and trustworthy. We take on all the stress associated with real estate transactions and manage things so that our clients don't have to shoulder that stress.
---
Our Team
Adam Mancini
President - Broker
adam@annmcbride.com
(860) 464-8430

Adam is a Southeastern CT native, born and raised in Gales Ferry and currently living in Pawcatuck. He graduated from Providence College and is a third generation broker/owner of Ann McBride Real Estate, Inc. (est. 1955). Adam specializes in representing clients in the purchase and sale of single-family residences and income property throughout Southeastern CT.

Kelly Asciolla
Realtor - Property Manager
kelly@annmcbride.com
(860) 464-8430

Kelly serves as a realtor and Ann McBride's Lead Property Manager, a role she's held for seven years. Kelly says her greatest professional skill, being a great listener, was honed over many years as Director of a pre-school. She prides herself on being able to understand and prioritize her clients preferences and commit to finding them the right home.




Jeffery Valentine


Realtor
valentine.jeffery@gmail.com
(860) 912-7223

Jeff says his career in real estate really started when he built his own home with his father in 2012 - he became a licensed broker in 2015. Jeff stands out for his knowledge and creativity around construction and renovations. He's great at helping clients see the possibilities of a property and estimate the costs and effort involved.




Megan Osborne


Realtor - Property Manager
megan@annmcbride.com
(317) 809-1729

Megan brings fresh eyes and a lot of enthusiasm to her brand new role as a realtor and property manager at Ann McBride. As a military spouse, she's long appreciated the importance of finding the right property - for short or long term - that can truly become a home. Couple that with her love of meeting and understanding new people, and this new role of hers is a perfect fit.